Hello! Today I made something easy....a Panda Corner Bookmark! Sooner or later I will post an origami tutorial, but I found this one (below) on Etsy and it looked super simple..So I decided to make my own.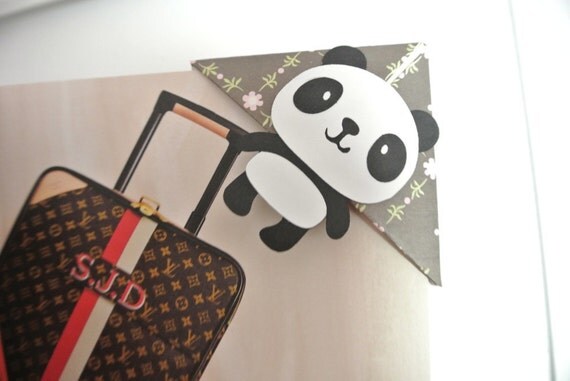 This isn't exactly a tutorial, as I didn't show you how to make the panda or the suitcase. For me, it was just a "copy down the shapes on the screen." However, these were the materials I used (the glue is not shown, but you will definitely need glue!)
What you will need is an envelope, scissors, glue, white cardstock, and a Sharpie. I used a pencil to draw the shapes first, in case I made any mistakes. For the "corner" just cut off the bottom corners of the envelope.
I drew the panda on the piece of cardstock, cut it out, and made a mini suitcase with some floral cardstock.
Then I glued the suitcase to the panda's hand, and the panda to the envelope corner. Here the bookmark is now, lovingly perched onto a corner page of Red Thread Sisters. The book sits right on my desk, so of course it would be the first one to use when trying out my bookmarks. You can also see the tip of my candy-cane nailed finger at the bottom of the picture (the book was curling up, so I had to kinda stop it).
There IS a complete difference between my Panda Corner Bookmark and the Etsy one, but that's fine. :) I drew the panda, anyway, while the other one looks to be a printout designed online.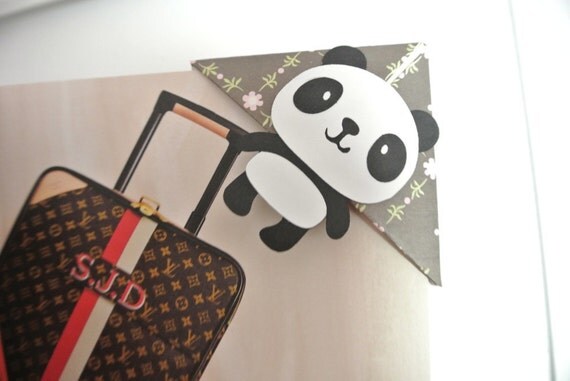 Have fun making your bookmark! I'd love to see what you come up with....
P.S. This was another chance for me to work on my blog, seeing as I'm SUPER busy with my crazy life...and midterms are almost done! Let's hope I don't fail the French course or something!
And have you checked out my new blog button? (located on right sidebar). I really love cartoon onigiri! I also will be creating a Buttons page that has all different kinds of cute buttons for this blog, besides the one I already have! Be on the lookout! ^_^